Planes of Development – The Way Children Grow
On the path from birth to adulthood the child passes through several distinct phases. In each of these phases a child is not only physically different but he also has different psychological characteristics and therefore different developmental needs.
At each 'plane of development', the child has such different physical and psychological characteristics that Montessori described the passing from one plane to the next as a 'rebirth'.
It is as if we have a new child at each new plane who will require a different environment just as the new born baby requires a different environment from the womb in which she has spent the last nine months.
Newberry planes are as follows:
Toddler (18 months – 3 years)
Two classes: Juniper and Freesia
Pre-Primary (3 – 6 years)
Four classes: Azalea, Cosmos, Disa and Protea (Afrikaans class)
Elementary (6-12 years)
Lower Elementary classes for 6-9 years:  Oak and Willow; Upper Elementary 9-12 years class: Newton
In total the school has an enrolment of 260 students.
Many psychologists have described these different planes but it is only Montessori who has provided a way to respond to this knowledge as a means of education. She redefined education as an 'aid to life' saying that if we support the natural development of the child at each plane then we will optimise development for the whole human being.
Motivation, learning and respect
Montessori assumes that students are responsible and capable and that they have within them the ability to succeed.
While academic standards are high, Montessori doesn't believe that competition and stress are the best ways to motivate learning. Inspiration, intrinsic motivation and real-life application are preferable, and there is much current educational psychology research to support this. Conversation, debate and discussion are used to challenge students to think and be creative problem solvers.
The faculty and staff of Newberry House Montessori High School are committed to helping develop students into kind, thoughtful, intelligent and inclusive human beings who contribute to the stewardship of our communities and our planet. We will offer an academic program that marries academic concepts with real-world experiences to help students appreciate their role in our society. Students will also be stimulated creatively through a strong fine arts program that includes drama, visual arts and music.
Respect for one another and for the environment permeates our Montessori school producing the warm, comfortable atmosphere for which our school is known.
Assessment and Examinations
1) Ongoing internal assessment
Assessments are carried out continuously, through orals, essays, presentations, discussions, checking on work and written tests. Cambridge supplies much guidance for these assessments.
Our students are fortunate to work in smaller classes, allowing for a more individualized academic process to unfold. Students can spend more time on areas that they find difficult and move ahead more quickly in those subjects in which they excel. We encourage them to collaborate and work together.
While some students may not elect to sit for the the A or AS level examinations, they will participate fully in the Cambridge course of study. Courses foster the expanding abstract capabilities of older adolescents and allow students to significantly shape their academic experience. Class meetings provide support and structure for work on independent and group projects and require in-depth participation, close attention to detail, writing, solid research, discussion, and analysis, clearly setting a foundation for university level work and a thoughtful, creative life.
2) Feedback to parents
Parents are given feedback every term on their child's progress and also full written reports at the end of Term 2 & 4.
3) Externally moderated Cambridge Examinations
Newberry House is an accredited Cambridge Examination Centre.
Each child's level is individually assessed in order to plan when they will write their first external IGCSE examinations, but most are likely to be held in Grade 11 in May and/or November. Afrikaans IGCSE exams can be written in November only.
In order to do any AS level subject – the child must have passed the IGCSE for that subject before they are able to continue with AS in the same subject. AS Level examinations are likely to be in May and/or November in Grade 12.
4) Examination fees
Examination fees are for the parents expense, 50% deposit on registration to write and 50% deposit by the middle of the year they are writing.
If s/he does not pass any of the exams satisfactorily, s/he may rewrite again at the next available exam time. Each exam and paper incurs its own costs.
NEWBERRY HOUSE Toddler (18 months – 3 yrs)

12 children per class, with 2 educators per class
School day: 08h00-12h15
Sports, Drama and Music
At Newberry House we approach every day with a sense of imagination, innovation, and fun, in a carefully planned and stimulating "hands on" environment, which will help our children to develop an excellent foundation for creative learning to support their physical, emotional, social and cognitive development.
The Montessori toddler classroom offers very young children a unique time of self-development in a tender atmosphere of special understanding, respect and support. The environment is unique in that it provides a very specific structure which fulfills the social, physical, emotional and psychological needs of each child, offering opportunities to gain independence in daily tasks.
We aim to promote confidence in their emerging abilities and develop gross motor coordination, fine motor skills, and language skills.
Toddlers are given opportunities to work in the development of language skill, art, music, sensory development and practical life. The practical life area is particularly emphasized as the activities in this area give children the chance to develop skills to care for themselves and their environment. Each child becomes grounded in reality, building the child's self-esteem is the ultimate goal and this is accomplished through repeated successes with these activities.

NEWBERRY HOUSE Pre-Primary (3 – 6 yrs)

2-3 Educators per class, depending on size
School day: 08h00 – 13h00; Extended day for 3rd cycle children until 14h00
Extras: Yoga, Playball, Ruggakidz, Kinderkinetics, Ball Skills
The Montessori Pre-Primary classroom for this age group is a "living room" for children and is sometimes called the "casa" or children's house. The prepared environment contains a large variety of materials for the refinement of sensory perception and the development of literacy and mathematical understanding.
Children choose their activities from open shelves with self-correcting materials and work in distinct work areas – on tables or on rugs on the floor. This fosters the growth of functional independence, task persistence and self-regulation. Opportunities are also offered for imaginative exploration leading to confident, creative self-expression.
Over a period of time, the children develop into a "normalized community" working with high concentration and few interruptions. Social development is promoted through respectful, clear communication and safe, natural consequences.
The classroom includes practical life exercises which enhance the development of task organization and cognitive order through care of self, care of the environment, exercises of grace and courtesy, and refinement of physical movement and coordination.
The child is also presented with basic reading and writing, language, maths, geography, history, life sciences, music, and art and movement education.

NEWBERRY HOUSE Upper and Lower Elementary (6 – 12 yrs)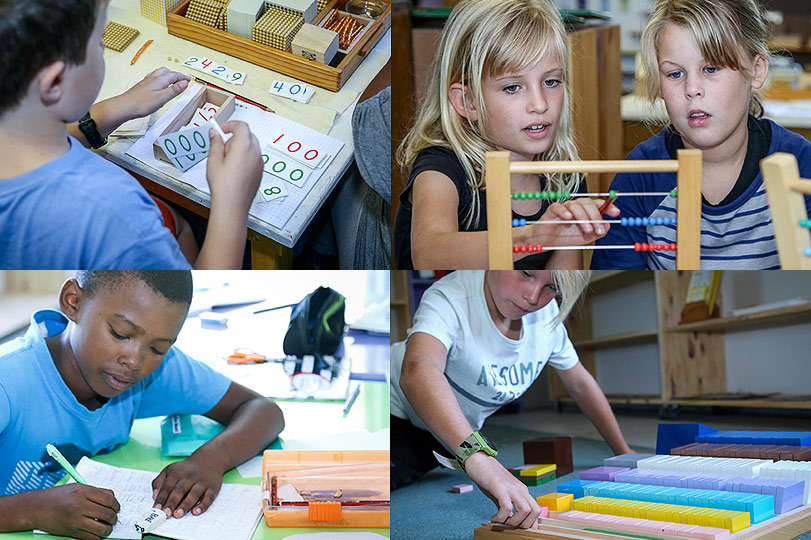 At Newberry, we currently have two Montessori Elementary classes for children aged 6-9 years and one for ages 9-12 years. There is a minimum of one teacher and one assistant teacher per class.
The environment builds on the pre-primary experience, reflects a new stage of development and offers an integration of the arts, sciences, geography, history and language that evokes the imagination and abstraction of the Primary child.  In this plane, knowledge is presented as a part of a large-scale narrative which unfolds through the origins of the earth, of life, of human communities (agricultural and urban), of empires and of modern history, always in the context of the inter-relatedness of life.
Children in the 6-12 yr age groups are interested in their cultural environment.  They are constantly asking questions about how things work and why things are as they are. They need to be given the facts – their questions need to be answered. Children in the elementary class do a lot of project work, either in groups or on their own. They choose topics that interest them and research and write the projects themselves, supported in the development of self-confidence, imagination, intellectual independence and self-efficacy.
All children are encouraged to produce and sell goods at the entrepreneur's day markets, held twice a year at the Lourensford Market and attended by the whole school.
A selection of extracurricular activities are available for children after the end of the academic day at 14h00, such as soccer, netball, trail-running, mountain-biking, singing, music, drama, art and more.  Children are encouraged to participate in extracurricular activities to stimulate holistic development, promote social skills, develop talents and channel emotions in appropriate ways.


NEWBERRY HOUSE Middle School (12 – 15 yrs)

Erdkinder is the Montessori answer to adolescence, which is adopted by our Middle School. The goal of Erdkinder (German for "Earth-Children"), is to produce adults who are equipped with the confidence in themselves and actual skills to live in the real world. Dr. Montessori died before the educational approach to this level was completed. Consequently, there is currently no AMI teacher training program for this level. However, many Montessori adolescent learning environments exist, with Montessori professionals working towards standards for this level.
At Newberry House Middle School the children learn by doing; they learn the basics to run a household, run a small business, manage a 'small-holding/garden for profit' and these tasks are integrated in the academic field by budgeting (Maths), planning (Economics), mapping (Geography) gardening (Science), Field Trips, and working in their community (Social Science), to name but a few.

NEWBERRY HOUSE High School (15 – 18+ yrs)

(CAMBRIDGE CURRICULUM WITHIN MONTESSORI PLANE-APPROPRIATE PRINCIPLES )
There is no standard Montessori Adolescent Curriculum as one finds at the early childhood Pre-Primary and Elementary levels. High School Montessori programs like ours commonly follow a carefully considered "core-curriculum" designed to both prepare students for university or a school–leaver's certificate and also to prepare them for the world beyond school. Following Montessori principles, they will continue to work in multi-age learning environments, continuing to interact with the Erdkinder group through leadership and active involvement in the Occupations environment.
For ages fifteen to eighteen, when the rapid growth of adolescence is slowing, a more rigorous intellectual schedule is most effective, combined with social work and apprenticeships in the work world. During the last three years of high school, students are more capable of abstract thought and more comfortable and capable of exercising their independence. At Newberry, a rigorously academic Cambridge curriculum and examinations are combined with opportunities to do work experience placements.
Newberry House High School follows the Cambridge International Examinations system because it provides us with flexibility and globally recognised quality; it works in similar 3-year cycles as does Montessori and students can progress at their own speed.  Cambridge IGCSE is the world's most popular international curriculum for 14 – 16 year olds. It develops successful students, giving them excellent preparation for their next steps in education. It has the advantage of being recognised by universities and employers worldwide.
Harvard Psychologist and author of The Unschooled Mind, Howard Gardner, suggests that "Many schools have fallen into a pattern of giving kids exercises and drills that result in their getting answers on tests that look like understanding."  But several decades of research into how children learn have shown that most students, from as young as those in kindergarten to students in some of the finest universities in America do not, as Gardner puts it, "understand what they've studied, in the most basic sense of the term." They lack the capacity to take knowledge learned in one setting and apply it appropriately in a different setting.
Our goal in Montessori education is to help students to learn how to learn; to trust their own ability to discover and think logically. We seek to foster their curiosity and self-motivation. At Newberry, we guide students to form a sense of our wider world and culture: how knowledge was discovered, how it is used in everyday life, and how apparently separate "subjects" fit together. We also build in as many opportunities as possible to allow students to move around, work with their hands, and master practical life skills.