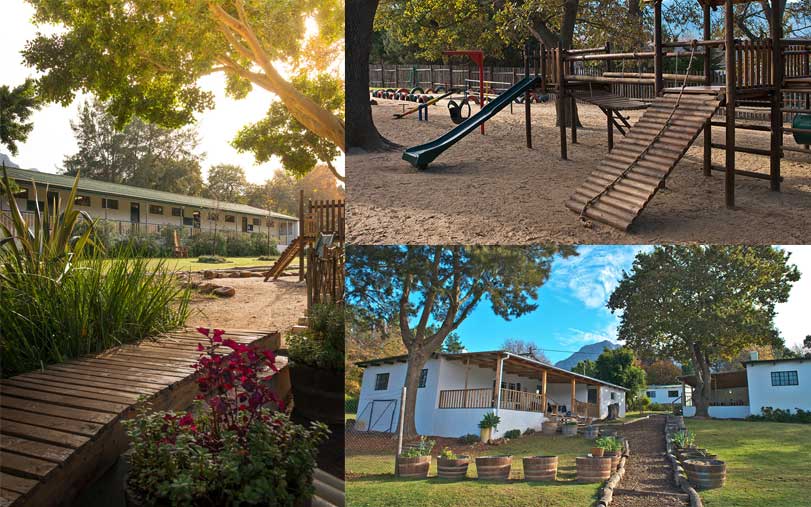 The world is our school and humanity is our guide.
Our goal is to develop the WHOLE child, from Toddlers (starting at 18 months) through to Grade 12. We strive to inspire a lifelong love of self-directed learning whilst nurturing the human spirit and preparing our students for the ever-changing demands of global citizenship.
Nestled on the spectacular Lourensford Estate in Somerset West, we provide a dynamic, structured and prepared environment in which children can meet the specific needs of each plane of their development. Our qualified, inspired and compassionate staff are committed to fostering meaningful learning and growth in an environment which enables learners to develop into thoughtful, creative and socially responsible young adults.
The Montessori approach offered from Toddler to Grade 6 fosters holistic development of the child, recognising their physical, social and emotional capacities. Access to a student-centered and Montessori inspired Cambridge International Examinations curriculum from Grades 7 to 12 prepares our high school students to embrace a global perspective through innovation, excellence, collaboration and an appreciation for diversity. Both curricula encourage academic rigour and reflect current academic research, while also fostering entrepreneurship and independence.
Class sizes
Toddler: 10-12 children
Pre-Primary: 24-35 children (minimum one teacher and assistant per class)
Elementary: 24-35 children (minimum one teacher and assistant per class)
Middle School – 20 children; High School 20 children
ADMISSIONS POLICY
1. INTRODUCTION AND STATEMENT OF INTENT
Admission to Newberry House Montessori School is designed to give parents an opportunity to learn about the school, its philosophy and policies, and to meet our administration and faculty. The Admissions procedure gives us an opportunity to assess each child's situation and determine whether we are able to meet the needs and expectations of the parents. Our goal is to enrol families who will both benefit from and contribute to what the school has to offer.
At Newberry House Montessori School we value the individuality of all children.  We are committed to giving everyone the opportunity to achieve the highest of standards and to ensure that this happens regardless of age, gender, ethnicity, attainment or background.  We look for children and parents who share our goal of a nurturing, cooperative atmosphere in which to challenge students to reach their full potential in their intellectual, physical, and artistic pursuits.
The aim of Newberry House Montessori School is to provide a secure and happy environment for children within which they can fulfil their developmental potential and become independent.  We strive to offer a setting for all children without discrimination where they can be together in harmony.
2.THE APPLICATION PROCESS
The process begins with either an online contact, a walk in or telephone call. Parents with their child/children are then advised to make an appointment to visit/tour the school. Tours take place on Tuesday and Thursday mornings at 11:00 by appointment only.  All parents who wish to apply will then be asked to complete an application form, pay the application fee and return it to the school as soon as possible.  Once the application has been assessed, and depending on the space available, the school will call the parents for an interview. The child will then be invited to spend time in the Montessori classroom environment for observation and assessment, and for the child to see if the environment feels like the right place for them. Only after this observation and full interview with the parents will the family be informed of the child's enrolment status.
Should there be no space at the time of application, parents will be given the option for their child/children to be placed on the waiting list.
Admission Process & Application Materials
FORMS
Application Form
Indemnity Form
Social Media Permission
MySchool Supporter Card Application Form


SCHEDULE OF FEES 2017
Application Fee
A once off non-refundable Application fee is required per new learner applying to the School R300
Enrolment Fee
A once off non-refundable Enrolment fee is payable by all new learners enrolled into the school
Pre-Primary                                           R1 800
Elementary, Middle and High School    R3 600
Tuition Fees
| | | |
| --- | --- | --- |
|  PLANE |  PER MONTH (x12) |  PER ANNUM |
|  Pre-primary |  R2 430 |   R29 160 |
|  Lower Elementary (6-9 years) |  R3 300 |   R39 600 |
|  Upper Elementary (9-12 years) |  R3 350 |   R40 200 |
|  Middle School |  R4 150 |   R49 800 |
|  High School |  R5 320 |   R63 840 |
Fees are payable in advance by the 7th of the month. Parents who do not pay the fees by the due date may be charged a late payment administration fee. Parents who wish to may pay the fees in advance for the year but there is no discount attached to early payments.
Sibling Discount
R100 per sibling per month or R1 200 per annum
Annual Capital Development Levy
In order to provide for further capital development of the school facilities, the Board has introduced an annual Capital Development Levy which is payable at the beginning of each year per family. The Levy for 2017 will be R2 000. Should individual parents need to make arrangements with the school for the payment of this Levy, they should approach the Head in this regard.
Annual Resources Levy
An Annual Resources Levy is payable for each learner to cover the costs of materials. The Levy for 2017 is R750 per learner. This amount is payable at the beginning of the year.
Sports Fee
Sport is included in tuition, however certain specialised sports such as horse riding, surfing etc. may attract additional fees as and when they are offered.
Aftercare Fees
R1 160 per month AdHoc R50 for 1st hour (includes lunch) or R90 per afternoon. AdHoc holiday care will be charged at R90 per half day or R145 per full day.
Other charges
Outings will be charged to parents at the cost of the outing. There may be other miscellaneous charges and parents will be informed of these when they arise.
Banking Details
Newberry House Montessori School
Standard Bank
Helderberg Branch 033012
Account number 371770564
Ref: Name and Surname of child
Fund-raising account 077282337
Cash
For reasons of security and the safety of staff and learners, the school will not accept amounts of more than R1 000 in cash.
SCHOOL TERMS 2017
| | | |
| --- | --- | --- |
| 1st Term : | Begins : 18 January | Ends : 31 March |
| 2nd Term : | Begins : 19 April | Ends : 30 June |
| 3rd Term : | Begins : 24 July | Ends : 15 September |
| 4th Term : | Begins : 02 October | Ends : 08 December |
SCHOOL HOURS
DAY
SCHOOL STARTS
SCHOOL ENDS
Monday - Thursday
8:00 am
15:15 Junior
8:00 am
15:15 Senior class
8:00 am
15:15 Middle School
8:00 am
15:15 High School
8:00 am
13:00 Pre-School
Friday
8:00 am
13:15 Primary/Middle & High
Toddlers
8:00 am
12:15 (Monday to Friday)
Pre-School
8:00 am
13:00 (Monday to Friday)
These times are reviewed from time to time and may change. Tuition starts at 08h00 and children are required to be in the school BEFORE this time. Parents are urged to be on time, both for dropping off and collecting of their children, as it disrupts the entire class when children are late, and they do not enjoy arriving half way through a class. Children will only be released from the school to the parent/s or to another adult who has been identified by the parent to the staff.