While our academic standards are high, the Montessori method doesn't deem unhealthy competition and stress as the best ways to motivate learning. Inspiration, intrinsic motivation and real-life application are preferable, and there is much current educational psychology research to support this. Conversation, debate and discussion are used to challenge students to think and be creative problem-solvers.
We are committed to developing students who are creative, considerate and pioneering and who contribute to the stewardship of our communities and our environment. From Middle to High School, we offer an academic program that combines theoretical concepts with real-world experiences to help students appreciate their role in society.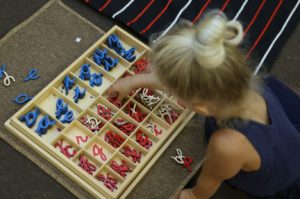 3-12 YEARS
During the Pre-primary and Elementary Planes, academic progress is constantly monitored, albeit quite differently to conventional methods:
Academic concepts are frequently introduced conceptually by the Teacher/Director by means of Montessori materials through small group presentations (e.g. the bead materials introduce children visually and kin-aesthetically to concepts of squaring and cubing, which are later applied in a more abstract manner).
The children then use the materials to master a concept themselves. The materials are often designed to have built-in feedback as to whether the concept has been grasped or not. The aim is to foster independence and confidence of the child being able to master a concept at his/her own pace.
One of the main tasks of the teacher is to observe, guide and direct (hence the term "Director/ess" frequently being used for our teaching staff). If a concept isn't grasped after numerous attempts, the teacher may either repeat a lesson on how to use the material, ask a fellow student to demonstrate or redirect the child to a similar activity that covers the same principle.
Observations are recorded by Newberry staff online through Transparent Classroom. This serves as the basis from which we inform parents of the progress that their children are making in class
Newberry House follows the AMI Montessori Curriculum (where some History and Geography aspects have been adapted by SAMA for a South African context) for the Toddler, Pre-Primary and Elementary Planes. AMI insists that their curriculum should cover at least the country's national curriculum; we therefore offer the CAPS content plus additional content.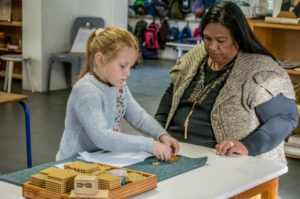 MIDDLE SCHOOL
Our Middle School students are assessed through projects, presentations (group and individual) and assignments on Google Classroom. These are mapped to the Cambridge curriculum for various subjects.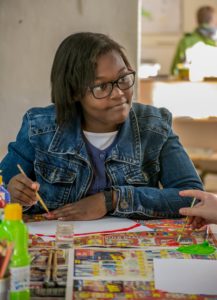 HIGH SCHOOL
Ongoing internal assessment
Assessments are carried out continuously, through orals, essays, presentations, discussions, checking on work and written tests. Cambridge supplies much guidance for these assessments.
Our students are fortunate to work in smaller classes, allowing for a more individualized academic process to unfold. Students can spend more time on areas that they find difficult and move ahead more quickly in those subjects in which they excel.
Class meetings provide support and structure for work on independent and group projects and require in-depth participation, close attention to detail, writing, solid research, discussion, and analysis, clearly setting a foundation for university level work and a thoughtful, creative life.
Feedback to parents
Parents are given feedback every term on their child's progress, either through a written report or parent-teacher conferences. Parents are also welcome to make an appointment with academic staff or the Head of High School to discuss their children's progress throughout the term.
Externally moderated Cambridge Examinations
Newberry House Montessori School is an accredited Cambridge International Assessment Examination Centre.
Our High School students write a series of internal examinations, which are usually externally moderated. Each student's level is then individually assessed in order to plan when they will write their first external IGCSE examinations. These are usually taken in Grade 11 (May and/or November). Afrikaans IGCSE exams can be written in November only.
In order to take any AS level subject, a student must have passed the IGCSE for that subject with a suitable grade before they are able to continue with AS in the same subject. AS Level examinations are usually taken in May and/or November in Grade 12.
Examination fees
Cambridge examination fees are not included in basic school fees. A 50% deposit needs to be paid on registration to write an examination and the remaining 50% needs to be paid by the middle of the year in which the paper is written.
If a student wishes to improve his/her examination result, opportunities are available for rewrites during the next available examination series.