As predicted, the rain and winds came in force as the Western Cape took the brunt of the first cold front of the winter season this past week. The experience was different for all, depending on where you lived or worked, and the community behind our school took some strain with the cold, falling trees and flooding.
Some of our very own Newberry staff live in this community and they informed us of the needs. Newberry stepped up immediately and staff arrived on site in the midst of the storm to assist and hand out items from the Winter Warm-Up Drive to those that needed them most.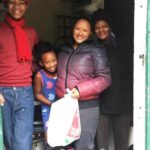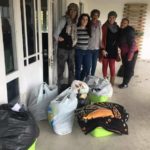 Blankets, warm clothes, jackets, soup and more were packed and handed out according to needs identified by Urlene and Deidre. Thanks to those who managed to get to school to help – Zain, Marina and also Jo who brought bread, sugar, pap to warm some tummies. Thanks to Didi, Urlene and Katie who alerted us to the plight of the community and helped as well. Thanks to those who were all ready to jump into cars and get there….you are all stars! Thank you to the wonderful parents of Newberry who donated the warm items to our drive in the weeks prior.