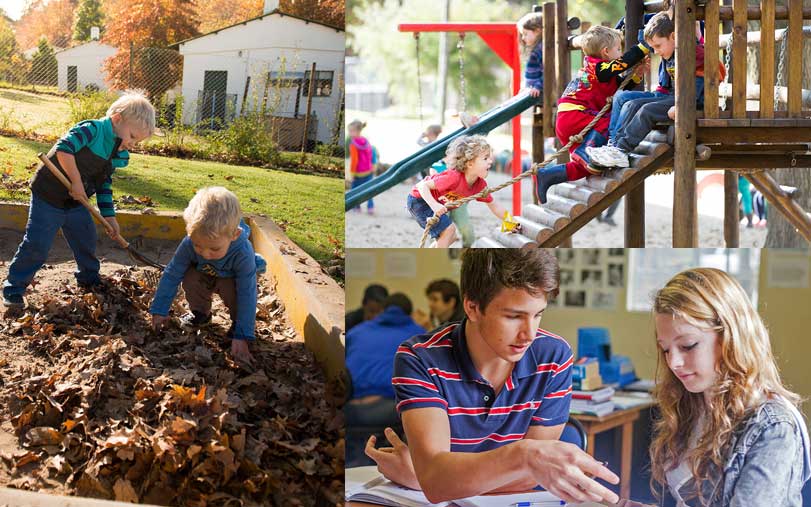 Newberry House Montessori School aims to be a leader in the delivery of world-class Montessori-based education from toddlers through Grade 12, acting in ecologically and socially responsible ways whilst creating a sustainable educational resource for a thriving learning community.
Furthermore, we provide children with a global perspective, building awareness of the gifts of service and engaged social responsibility. We operate in a beautiful, peaceful,  sense of place with a deep focus on place-based learning, sustainability and connection with nature. We provide and encourage healthy, natural, chemical and preservative-free nutrition wherever possible.
The school as a community
The goal of all Montessori education is to establish safe, warm, caring environments within which to teach students positive and appropriate ways to handle situations. Our focus lies on assisting students in developing a strong sense of self-discipline, self-reliance, love of learning, contribution to society, sustainable living, responsibility and courtesy.
Parents are warmly invited to participate in various aspects of school life, informally or as an elected member of the Parents Association.
As a school founded on Montessori ideals, we practice peace education and believe that every person deserves respect. We expect students, parents and staff to demonstrate kindness, courtesy, and respect toward the school and fellow students, parents and staff.
The school is divided into the following planes:
Toddler (18 months – 3 years)
Two classes: Juniper and Freesia
Pre-Primary (3 – 6 years)
Four classes: Cosmos, Azalea and Protea (English and Afrikaans)
Elementary (6 – 12 years)
Two Lower Elementary classes – Oak and Willow – for 6-9 years and one Upper Elementary class for 9-12 years.
Middle School (12 – 15 years)
High School (15 – 18 years)

In total the school has an enrolment of 215 students.
CORE STANDARDS FOR EACH PLANE: ASSOCIATION MONTESSORI INTERNATIONALE and CAMBRIDGE EXAMINATIONS
The Association Montessori Internationale (AMI) was established by Maria Montessori in 1929 to protect the integrity of her work and to support high standards for both teacher training and schools. Today, AMI continues to uphold Maria Montessori's vision while collaborating with contemporary research in neuroscience and child development.
At Newberry we strive to attain AMI standards in our Montessori environments for each plane and the school is developing strong ties with the AMI community abroad.
The school is an accredited Cambridge International Examination Centre. From Grades 9-12, the school uses the Cambridge Examination materials and assessment guidelines, culminating in an IGCSE or AS level certificate.
___________________________________________________________________________________
2000: Newberry House Montessori Primary started with two children in 2000, and has grown exponentially every year
2010: A well-established Pre-Primary Montessori School (LAMP) joined us and we all moved into our new location on the Lourensford Wine Estate.
2011:  January 2011 saw the launch of our Middle School, with grade 7 and 8 learners.
2015: In January 2015 we celebrated the opening of our High School age-group 15-18 years, incorporating Grades 10 to 12.
2016: Cambridge International Examination Center and ISASA accreditation achieved.
2017: Another highly respected Montessori Pre-Primary school and teacher training centre, Somerset West Montessori under the exceptional leadership of Mariana van Niekerk, joins the Newberry House campus and a new Lower Elementary (age 6-9) class opens its doors.
The school is registered with the Western Cape Education Department and is accredited by SAMA (the South African Montessori Association) and is an accredited Cambridge International Examination Center.