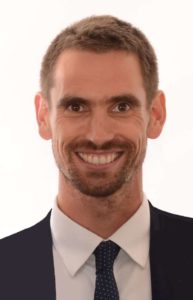 Your initial impressions of Newberry House? After initially being blown away by the breathtaking scenery and unique location of Newberry House (not many schools can lay claim to being located on a world-renowned wine estate at the foot of a beautiful mountain range!), my subsequent thoughts can be summed up in two words: tremendous potential. I am very excited about being able to work with both staff and students within this unique setting, in delivering a world-class education to the children we serve.
What attracts you about working in a Montessori context? I think most people realise that something needs to change in the way that education is delivered, to prepare the next generation for the 21st century. I believe the Montessori model can provide many solutions in terms of equipping children to think more independently and be leaders of their own learning. It is often said that knowledge is power, but that's only half the story – applied knowledge is where the real power lies, and this is something Montessori gets right.
What are your short term goals for Newberry House? At the heart of any organisation lies its people; l am a firm believer that once you have the right people on the bus and in their right places, the school (or any organisation) will flourish and become a really fun place to go to every day. So my first priority will be to get to know the staff and students and find out what makes them "tick".
Longer term goals? I want Newberry House to deliver a world-class education and to develop well-rounded students who are able to think innovatively, not only in regards to the life decisions they will face, but also regarding opportunities and finding solutions to the challenges that face us the 21st century. That sounds great on paper, but the practicalities include gaining AMI accreditation, which means that we will be one of the few schools in Africa that meet the highest standards of a Montessori education. We are now an accredited Cambridge iGCSE Centre, and our delivery needs to ensure our students meet the very highest standards and make the best progress possible without "learning to the test", but by learning to think for themselves and lead their own learning. We also have plans to develop our curriculum with a greater emphasis on physical activity and sport, which is highly beneficial in terms of development of the whole child. There are some exciting projects planned in conjunction with the Cruyff Football Institute and AMI, as well as the Sports Science Faculty at the University of Stellenbosch. I basically want every student to be able to walk out of Newberry House empowered to do what he or she really wants to do, whether that be in an academic field or setting up their own business.
Why Cruyff Football? I was introduced to the Director of Talent Development at Cruyff Football by Andre Shearer (Newberry's Chairman). They are working on a sport-based curriculum designed for Montessori schools and we are excited by the possibility of being one of the first schools involved. I also admire their drive to add value to underprivileged communities through their football projects.
 As Head of Science at Jubilee High in Surrey (UK) you brought about a significant improvement in GCSE Science results? To put things into context, the school was initially one of the lowest performing schools in the county. We then had a change of senior leadership and went through a "school turnaround" to become one of the best schools in Surrey in terms of student progress. Although that period of transition wasn't the easiest, the changes inspired me and have become a frame of reference in terms of my leadership practice. Basically, we got rid of all the peripherals and non-essentials and ensured we structured everything around our core business – teaching, learning and ensuring the children got the very best deal. Strategies ranged from greater collaboration among staff to plan and deliver tailored, high quality lessons; encouraging students to take more responsibility for leading their own learning; and using available data effectively to diagnose areas of weakness; putting appropriate interventions in place and then holding people to account.
Parents in general seem most concerned about Science and Maths? As important as Science and Maths are inside the classroom, it's just as important what we teach our children outside the classroom. It's about developing well-rounded individuals who are academically proficient, but also have the skills to thrive in the modern world. I have just read an article on how many large companies in the UK are for the first time placing more emphasis on an applicant's EQ (emotional intelligence) than on their qualifications. That speaks very loudly about the way the modern world is moving, so we need to ensure our children are prepared. Having said that, I do not believe we need to compromise on academic achievement. But the underpinning focus of education should always be on developing the whole child.
How do you monitor student progress to ensure they don't start to slip through the cracks? I gained a lot of experience in this in the UK, where there is a massive focus on the importance of every child making progress and holding people to account to ensure not one child slips through the net. The data available for each student can be overwhelming, so the key is knowing how to use data effectively and to "humanise" it – we aren't just dealing with numbers here; we are dealing with real people, all with their own stories, ambitions and challenges. When you get to know the students, you are able to make more sense of the data and diagnose specific problem areas. Then you can put tailored interventions in place and monitor progress to see whether these interventions are effective.
Newberry House is a relatively new and developing school. How does your experience benefit you in your new challenge? I've always been excited about starting or making something better and The Little Gates preschool in Greater London came into being as a result of both these things – we were a group of like-minded people who saw a need in our local community and decided to do something about it. The team consisted of people from a variety of backgrounds – law, social work, accounting and engineering. Each person had something valuable to bring to the table. As with any start-up there were challenges, but because we were driven by a common vision, we learned how to navigate around these. The ultimate for me was seeing my eldest son flourish at the school. Although they're in slightly different phases of development, I can definitely see strong parallels between a start-up like the Little Gates and a relatively new school like Newberry House: the importance of a clear and compelling vision, having the right people on the bus and keeping the vision at the core of what you do. This also allows you to think differently about challenges and stay focused when distractions come along.
How do you go about guiding students on study and career paths? Part of preparing our students for today's world includes readying them for jobs that don't even exist yet! Think about it – a few years ago most people hadn't even heard of SEO (optimising search results on the internet), self-driving cars or Tesla! A big part of this involves helping students to think independently, become life-long learners and be able to adapt quickly in an ever-changing landscape. These are crucial skills that the Montessori model (and Cambridge in the later years) can develop. It is crucial to expose children to real-world examples of possible career options through work experience and visitors from industry – to enable them to find out how different pathways will live up to their expectations and expose them to completely new fields.
Is there a related need to transform the school curriculum? One of our main aims is to prepare every student to excel in their chosen field; whether a more traditional path like medicine, a relatively new field like mobile phone app development or starting their own venture. There are practical ways of building the curriculum around these options, but the most important part of preparing students for any career, traditional or new, is helping them to think for themselves.
Having worked your way to an assistant head teacher position in the UK, why come back to South Africa? My wife and I have always said that if the right opportunity presented itself, we would love to apply some of the experience we have picked up in the UK to add value to our wonderful country. As an expat, you are frequently out of your comfort zone, which forces you to learn to do things differently. I am really keen to share some of these experiences to help build a better South Africa and I think there is so much potential in the field of education.
Your Linked In profile says you are motivated by 3 things – people, growth and adding value? People are at the heart of every pillar of society – whether it be family, school, business or a charitable organisation. What motivates me is the privilege to connect and work with people of different backgrounds on a daily basis and add value to their lives. Leadership is about adding value and constantly thinking how to make things better for the people you serve, whether directly or indirectly. To lead effectively and help others grow, however, you have to take responsibility for your own growth, which only really happens when you're intentional about it. I read quite widely and listen to a lot of podcasts on leadership and business, but also constantly ask myself how I can make this knowledge applicable, for myself and others. You can only take people as far as you have grown, and when you stop growing, you stop leading effectively!
You are an avid trail runner? I love the sense of adventure and exploration that comes with trail running, being able to test your limits and have loads of fun at the same time! Coming from an athletic background at University, I have always enjoyed running, but my favourite sessions were the long runs we did in the Stellenbosch mountains. My first weekend break in the UK was to climb Helvellyn, England's second highest mountain, only to have my backpack roll down the summit when I took a photo (the days before selfies!) I then decided to retrieve it but had to run down the mountain to make the last bus. A few years later I had the privilege of going for a run with two pro trail runners, Ryan Sandes and Michael Wardian, which really inspired me to start running trail races competitively. I then got myself a running backpack and started running to work and back (about 18km a day). Being able to run commute really helped me get in enough miles to start racing decently, without it imposing too much on family life!
Tell us about winning the Picnic marathon in 2014? I was intrigued by the Picnic as it has been rated "Britain's hardest marathon" by Runner's World magazine. It's basically a trail marathon up and down Box Hill (Surrey's version of a mountain!) a number of times. I only decided to enter on the day, and although I was in relatively good shape, I was surprised to win. Maybe I'm just a sucker for punishment, but the more extreme something is, the more I enjoy it! That win helped me realise that although it's good to compete against yourself, enjoying the moment is what ultimately helps you to make the most of the gifts you have been given.
Tell us about your sons? My boys are 5, 3 and 1 and yes, they will attend Newberry House (hopefully it won't seem like the Greens are trying to take over!) My previous Head said that one of the litmus tests of whether your school is successful is whether you would enrol your own children. Although having three boys has its challenges (like who gets the middle seat in the car!), I am grateful to my amazing wife who makes sure all four men in the house toe the line! I believe the home is the most important place for children to be equipped for life and that schools should work in partnership with parents/carers to support them in the massive privilege of raising the next generation.