Last week students from Middle and High School (as well as a few very excited upcoming Upper Elementary learners) were treated to two in-house Socratic Seminars on the topics of Project Management and Financial Analysis.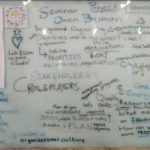 Owen Bosman (parent, civic engineer, professional project manager and a co-author of a book on the same topic) spoke on the potential for well co-ordinated teams to successfully tackle complex tasks. Jothan Strauss (of UE) related the talk to his father's ongoing renovation of a vintage camper van, meanwhile Middle School students found the seminar of relevance to their Erdkinder Occupations Projects, with our High School students using the opportunity to more effectively strategise their approach to handling the complex challenge of Cambridge examinations.
The following day High School Business Studies learners were visited by Gail Schulschenk (BA, L.LB, CTA, B.Comm, Law, Accounting, Economics and currently working in our very own Newberry Head Office). Students were enthralled by this dynamic Seminar which principally focused on the need for savvy reading of financial accounts in ensuring sound business practice.
Newberry House extends heartfelt thanks to both Owen and Gail for giving so generously of their time and expertise. Such Seminars afford us a wonderful opportunity to extend our learning program as we continue to grow our innovative learning community. We look forward to our next round of Senior School Seminars in the third term.